*
In her post announcin' this week's Haiku theme, Moi mentioned how this blog community has been in slacker mode--mebbe it's on account of work, or bizzy family situations or any number of personal reasons.
But is that all? Ain't we always been workin'? An' most ever'body has been dealin' wif personal time drains at some point in our blog history. Please participate in Aunty's Blogger Beef survey/ forum below.
I reckon we must factor in the social media what sucks off some of our online time. I ain't a FB or Twitter fan, but I admit I'se been lured into Pinterest .
*
Thang is, I worry that all these social dalliances an worker blues ain't sufficient to explain our blogger blues--heah's what Moi wrote:
"Regarding my blogger slackitude: It's nothing personal. I adore each and every one of you who drops by my little corner of the virtual universe and miss those wild and wacky days of furious back-and-forth-ing. Is this a case of all good things must come to an end, or just a bit of a lull?"
I'se hopin' it's jes' a lull....what do y'all think? Is it more? If so, what is it? What's dampened yore blogger enthusiasm?
This heah is what troubles Aunty:

1. Word verification --grrr! too time consumin'. I visit sites wif' word veri less an' less often. I prefer comment modification to word veri. (But I grrr! comment mod too)

2.Wordpress hates Aunty--woan let me post unless I sign OUT as Aunty an' come back naked. Does any of y'all have trouble wif' them other blog platforms?

3. Blogblahs--weary wif' the SOTW (state of the world) an' we let it sap our joy.

4. Other Blogger Affairs. Spendin' more time in other blogger communities. I does this somewhat--fer professional reasons, Aunty participates in topic specific community. Does y'all find youse enjoyin' other blogger groups more that ya does this gang?

5. Political Correctness Ok--heah's the one I worry most 'bout--is we gettin' too tender? When thar's a good natured cyber pillow fight it clears the air (see Moi's comment above). I ain't suggestin' no meanness, or character assassination, or offensive language. What I mean is, are we becomin' too PC? Tip toeing past topics that some may take issue wif' an' so we avoid that exchange? Does we'uns hesitate to comment on political/ social issues fer fear of offendin' others?
Ain't thar' a manner of statin' yore POV wif'out injury to the character of those wif' alternate views? Aunty thinks a good jaw is the mark of trust--ya' doan have to agree wif' me for me to like ya'. Does I need to agree wif' yore premise afore ya' feel trustin' toward me? Gracious, I has family members I adores, but we ain't seein' eye-to-eye on ever'thang, thas' fer shure.
6. Boredom We's been together a long time an' the sparkle has dimmed. Short of a flame war, we need a little heat.
7. Reciprocity. General good blog manners may mean reciprocatin' by visitin' those who visit us, an' leavin' a comment. In some cases, I doan reciprocate, but it doan mean I'se unfriendly to the visitor/ commenter. It's a propriety thang fer Aunty. Some years back, thar wuz a bird lady regular to these parts. Bird Beauty hails from San Francisco. Her philosophy an' politics is about 180 that of Aunty, but we's genuinely friendly. When her blog became too salty fer Aunty, I discontinued visits. Bird unnerstans that.
When K-9's dawg yard had a regular visitor, The Rev X, he an Aunty would have exchanges, but after a spell his blog had warnings from "safe search" so Aunty bid him adieu--though we continued our exchanges on the Porch --he din't expect me to come callin' at his place.
I go into some detail heah a I want to apologize if anyone thinks Aunty ain't neighborly or reciprocal. An' I git it--iffin' I'se too straight-laced of an ole biddy fer some, it will not hurt mah feelin's iffin' some doan visit heah. We can be genial when we visit our mutual blogger friends.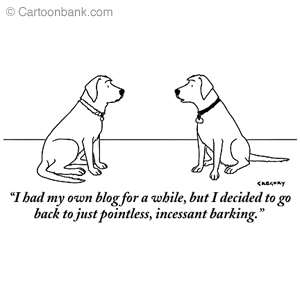 Whadda y'all think? Any of the above rubbin' ya' raw? Somethin' else entirely? It's merely a lull, doan sweat it?
I welcome yore thoughts. (Use ANON if it seems best to ya' fer some insights.)